Pumpkin Patch - Now Closed
Please check for details of our 2020 Pumpkin Patch dates closer to the time.
Times are subject to change - please check our Facebook, Instagram and Twitter social media pages, or our website for updates on the day you plan to visit.
We grow an abundance of pumpkins on the farm each year ready for Halloween, all of which are available from both our Pumpkin Patch and Farm Shop.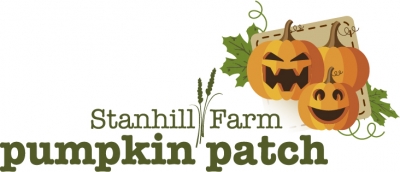 The Pumpkin Patch has proved very popular since we first opened it six years ago, and it is lovely to see people of all ages enjoying Halloween and selecting their own pumpkins to take home and carve.
Grab a wheelbarrow and head down to the patch where you will find a huge array of pumpkins in various different sizes. It is also a great chance for a photo opportunity, surrounded by a sea of autumnal, orange colour! We have seen some fabulous pumpkin carvings over the years and welcome any photos of customers' creations to be posted on our Facebook, Instagram and Twitter pages. You can also make use of the pumpkin flesh and create delicious soups, pies and even muffins!
For details on how to find us, please click here.
Please see our FAQ section below, which you may find useful.
Pumpkin Patch - FAQ's
When do you open?
Pumpkin Patch: 2020 dates TBC
Farm Shop: 2020 dates TBC
What are the opening times for the Pumpkin Patch?
Monday – Saturday: 9:00am to 5:00pm (last admission is 5:00pm)
Sundays: 10:00am to 3:30pm (last admission is 3:30pm)
Please note, times are subject to change - please check for updates on the day of your visit.
For details on the Farm Shop opening hours please click here.
How can I find you?
For details on how to find us, please click here.
Do I need to book in advance?
No, we do not take bookings unless you are in a large group ie, a school visit. Please check our website or social media pages to check that we are open, as we may need to close if it is too rainy.
How much do the pumpkins cost?
The cost for 2020 is to be confirmed. The pumpkins are measured by weight, therefore, the larger the pumpkin the more expensive it will be. We have kept our prices the same for the past three years.
Do you accept debit/credit cards?
We accept both debit and credit cards.
What should I wear?
We are a working farm and care should be taken on uneven surfaces. Please wear suitable footwear such as trainers or outdoor boots in dry conditions and wellington boots when it's wet as the fields can be muddy. It is also advisable to wear gloves as the pumpkins are muddy and the stalks are prickly.
How does it work?
There will be signs directing you where to park and during busy times a parking marshall will be present to offer assistance. The Pumpkin Patch is free to enter, just collect a wheelbarrow and walk over to the patch to select your chosen pumpkins where they will already be cut off their vines.
Once you have chosen your pumpkins, please enter the marquee area where a member of staff will weigh them and take your payment. When you have finished with your wheelbarrow, please return it to the Pumpkin Patch area. If you borrow a wheelbarrow, please ensure you are careful as they can easily tip over.
Do you provide carrier bags?
We provide standard plastic carrier bags priced at 5p each. However, it is advisable to bring strong carrier bags with you to accommodate heavier pumpkins or if you plan to buy more than one. Reusable supermarket bags ('bags for life') or strong recycling bags are ideal. Bin liners, however, are not strong enough to carry many pumpkins.
Are there lots of pumpkins available?
We always plant thousands of pumpkins, so we anticipate there will be plenty. Our social media pages and website will be updated regularly with information about availability.
Do you allow photoshoots on the Pumpkin Patch?
You are welcome to take some photos if you are buying pumpkins, however, we do not allow official photographers for photoshoots when the Pumpkin Patch is open to the public. You can hire the Pumpkin Patch for exclusive use out of hours for a fee of £30.00, for your photoshoot to take place. This would cover an hour and for us to pay staff and for the farm to remain open for longer.
Can I carve my pumpkin at the farm?
At present we are not able to offer pumpkin carving workshops at the farm as we do not have the facilities or staff available to assist.
I am having a function/event - can you supply a large quantity of pumpkins?
Yes, please email info@stanhillfarm.co.uk to discuss this further and we can make the necessary arrangements.
Can we walk anywhere on the crops?
No, for your health and safety please only stick to the areas you have been directed to for the Pumpkin Patch.
Can I take a pram/wheelchair on the Pumpkin Patch?
We put straw down on the Pumpkin Patch, so the ground is cleaner and more pleasant to walk on, therefore, this area would be easier for prams or wheelchairs. We dont advise using the main pumpkin field as it can get very muddy and therefore more challenging for pram or wheelchair users.
Can I bring my dog?
No, we do not allow dogs on the Pumpkin Patch or anywhere on the farm.
Is parking available?
We have plenty of free parking available. Please drive slowly and safely as there will be children about and the ground could be uneven and muddy. Please ensure that you do not leave valuables in your car. Stanhill Farm cannot accept any liability to any customers or other visitors or their children for theft or damage (however caused) to vehicles or their possessions whilst in the car park.
Can I bring a picnic?
We are happy for you to bring a picnic to the farm but ask that you eat it on the picnic tables provided next to the Pumpkin Patch, but not on the Pumpkin Patch itself, the fields or the car park.
Do you have a café onsite?
We were very pleased to welcome the launch of Sophie's Tea Tent in Summer 2019! Sophie opens during the school summer holidays and October half term holidays every day from 10:30am - 5:30pm, serving tea, coffee, hot chocolate, homemade scones and cakes, toasties, ice creams (including Solley's Kentish soft scoop) cold drinks, crisps and biscuits. Plenty of seating is available, both indoors and outdoors. Please keep an eye out next summer for details of Sophie's 2020 opening dates!
Do you have toilets?
We have one portaloo and one disabled portaloo. They are located to your right as you head down towards the Pumpkin Patch.
Do you have baby changing facilities?
Yes, there is a baby changing unit available in the disabled portaloo.
Do you keep lost property?
Any lost property that is found will be kept until the end of the pumpkin season. Please email us with a full description of the lost item and we will get back to you.
Is smoking permitted?
No, smoking and vaping is not permitted on the Pumpkin Patch or anywhere on the farm.
Is alcohol permitted?
No, alcohol is not permitted on the Pumpkin Patch or anywhere on the farm.
Do you welcome coach parties?
Only for pre-booked school visits and not at weekends.
Do you do children's parties?
No, unfortunately at present we don't have the staff or facilities available.
Why can't I get an answer on your office phone number?
We are a small family business and during the busy season we are all working on the farm. If your request is urgent, please leave a message on our answerphone and we will endeavour to call you back as soon as possible. Alternatively, please email: info@stanhillfarm.co.uk
Please note:
Do not drop or throw the pumpkins as they may smash and will be not be in a sellable condition.
Children under the age of 16 must always be supervised by an adult.
All rubbish must be removed from the farm.
We reserve the right to refuse entry and to remove people from the farm.
Thieves will be prosecuted.